Offering electric vehicle (EV) charging stations at a retailer or restaurant as an amenity can provide several benefits, including: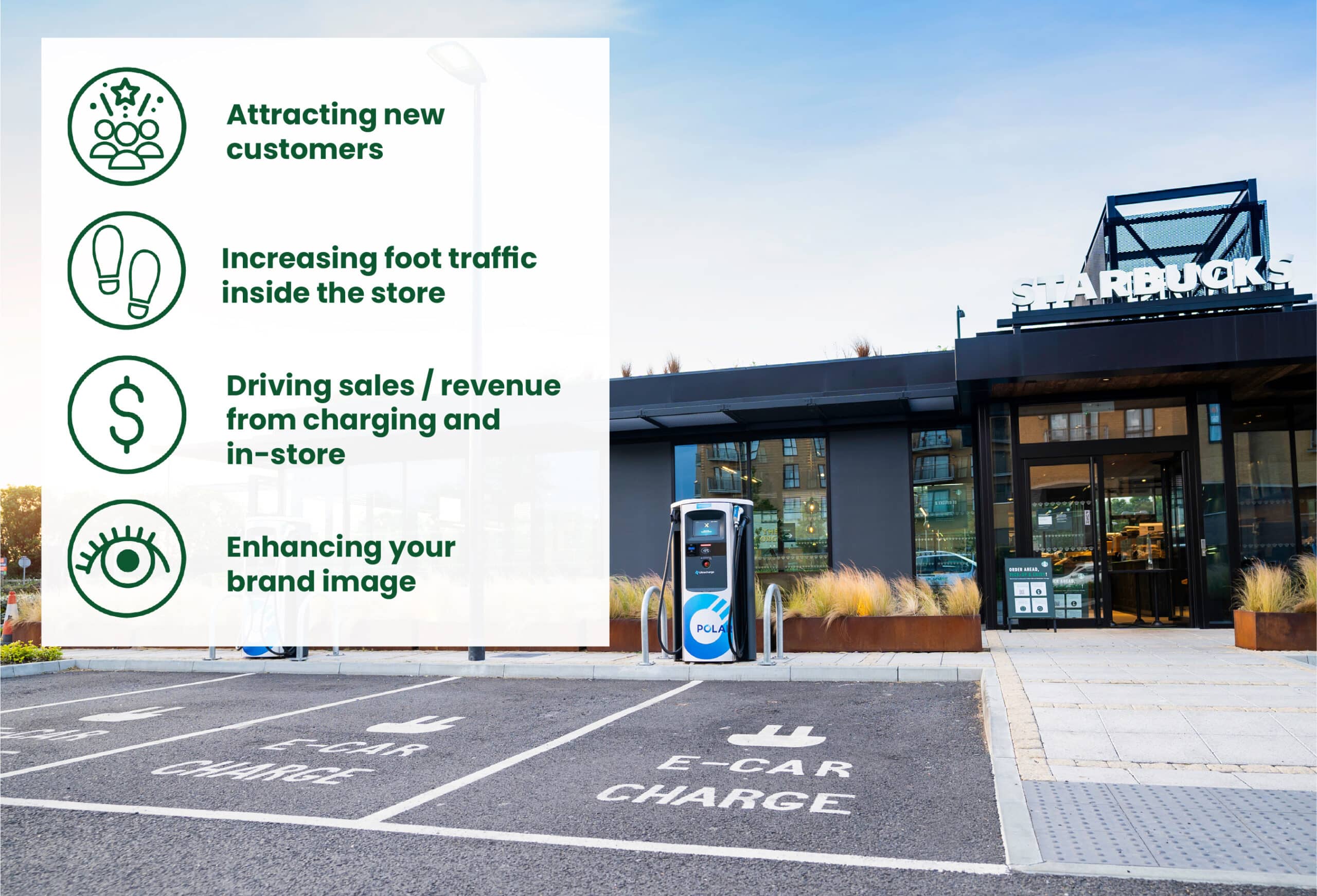 The decision to install EV charging stations should align with your business goals, target audience, and long-term business strategy. Conduct thorough research, consult with experts, and evaluate the financial and operational implications before making a final decision.
Top 8 Considerations when Planning to Install EV Charging Stations:
 1. Target Customer / Audience
Determine what type of vehicles will likely arrive at your location(s) and need to be charged (Tesla, other, service trucks). Define compatibility goals and if the station should be compatible with all EV models and manufacturers. In addition, look at the customer experience regarding location and accessibility. Priorities should be Visibility and Ease of Access, Safety (well-lit), and a Direct and Safe Path to the store/restaurant.
2. Charging Speed and Infrastructure

Decide whether you want to offer standard Level 2 charging (usually 240V) or fast DC fast charging (usually 480V). DC fast charging offers quicker charging times but requires more electrical and related infrastructure investment. Check the electrical capacity of your building to determine if it can handle the additional load from the charging stations. Upgrading electrical systems might be necessary.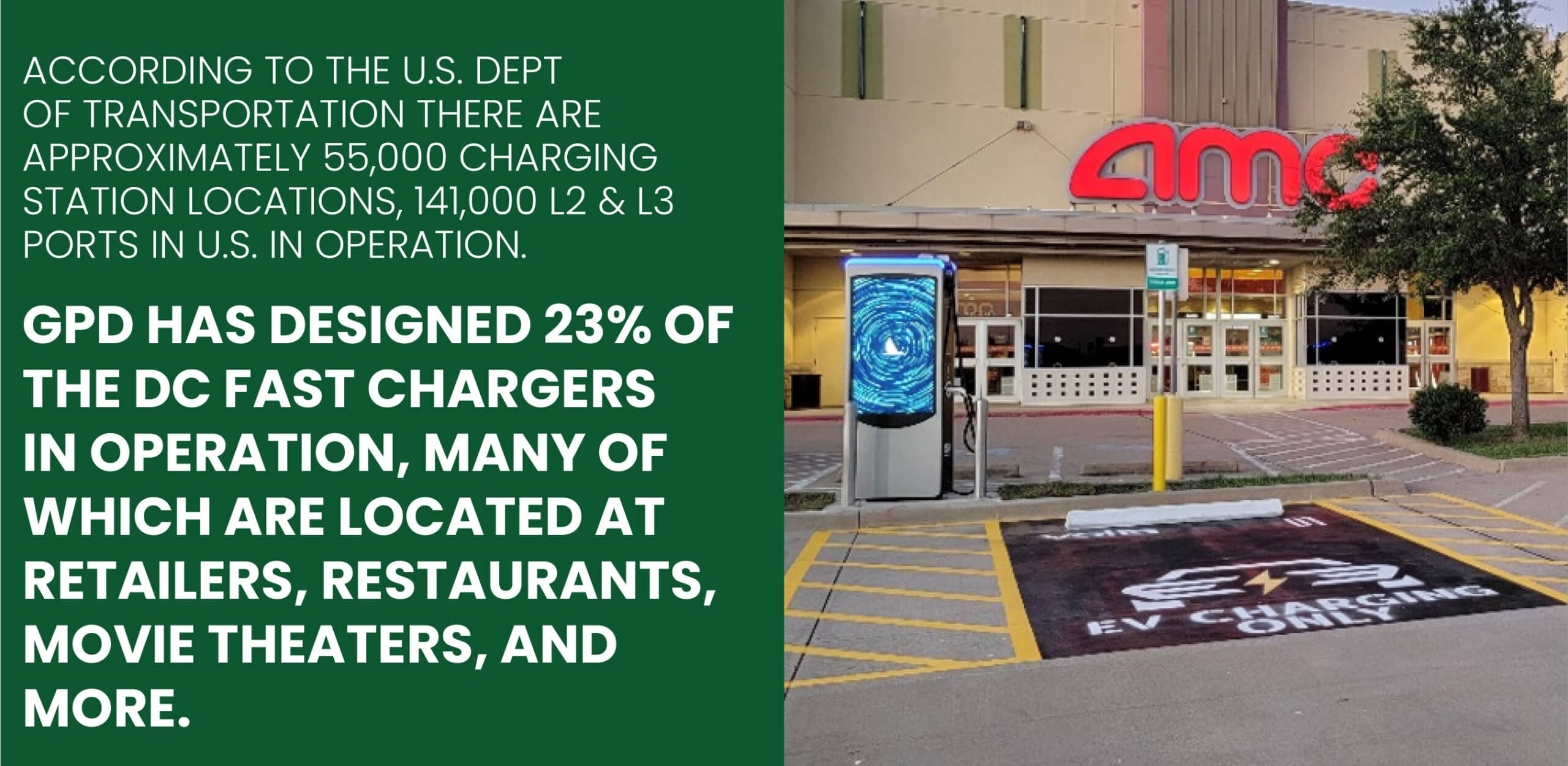 3. Number of Charging Stations & Locations (ADA, Site Layout, Access)

Consider the average length of time customers spend at your establishment. If it's a restaurant, customers might spend more time, allowing for slower charging stations (L2). Retail shoppers might prefer faster charging options (L3).
4. Future Expansion
Plan for potential future expansion as the adoption of electric vehicles continues to rise. Confirm the
charging infrastructure can accommodate increasing demand. Implementing DCFC – Infrastructure
(Electrical Box/Switch Gear, Conduit, etc.) is the safest way to future-proof your site installation and provide
for charging unit and speed expansion.
5. Revenue Generation

Decide whether you want to offer free charging, charge customers for usage (revenue source), mix of both, and/or attraction to drive core business sales. Consider providing various payment options, including mobile apps, RFID cards, or credit card payments.

6. Maintenance
Making sure your sites operate at their full potential when your customers want to charge requires upkeep
and ongoing attention. Specifically, the charge connectors are neat/orderly, the network is properly
connected, and regular testing is conducted to ensure optimal operation.
7. Engineering Design, Permits, and Regulations
Check local regulations, permits, and zoning requirements for installing charging stations. You may need to obtain permits from local authorities. Both L2 and L3 DCFC need permits – either trades or site/solution AHJ Approved. Permitting timeframes are one of the top issues we face with EV charging implementation. GPD's experience is that permitting takes 4 – 8 weeks, and screening of the electrical equipment and battery storage units, if being utilized, is a key request of AHJ's. DC Fast Level 3 chargers can have significant grid demand and may take up to a year to procure power and equipment. GPD can help define and communicate the goal to the utility in advance, drastically improving deployment.
8. Cost and Funding Options
Calculate the installation, maintenance, and electricity costs associated with the charging stations. Determine if the investment will generate revenue through customer usage or if it's primarily a customer service offering.
All in cost:
•L2: ~$20-30K Per Station (2 Posts)
•L3/DCFC: ~$75K+ Per Station (2 Posts)
•Funding Available: NEVI, VW Diesel Emissions Program, State Programs
Installing EV-Charging at your locations is a process that needs to be followed, and consulting firms like GPD Group can assist you with the entire process from concept design through permitting and construction administration. It's not inexpensive; however, funding grants are available, and the benefits of customer attractions, increased foot traffic, additional sales and revenues may help offset the investment. Implementing such an environmentally friendly solution will also enhance your brand image and resonate well with your customers.